Background
We have released several hundred songs over the years in a systematic way. Since the start, we have tested new things and if they turn out to work well, we add them to our release process. The industry is constantly evolving and we always have to keep up and adjust our approach according to circumstances. Blogs, services, and magazines come and go and you have to adapt to new situations. We have based our strategy on our experience and managed to unveil answers to some of the trickiest questions such as how long before the release date one should distribute to increase the chances of the release being a success. Throughout time we have discovered the most important details that influence algorithmic streams. We have learned what gives real results and what is a waste of time and money. We have created processes based on our experience and automated much of the administration and communication so that our releases will be as efficient as possible to get the best results without needing the biggest budgets. One of the things that we have seen that gives the best results and tends to be very effective if done correctly is playlist marketing. This is one of our main focuses when it comes to releases.
Why are playlists a big part of our strategy to reach out?
One of the things we encountered early on when we started marketing music was how much of a difference it made for a release to enter a playlist. From one day to another, the number of streams could take a leap to a whole new level. If a song was added to the correct playlist, it would make more listeners save the song in their own catalogs and therefore give recurring streams.
The songs that were saved the most were added to Discover Weekly lists and some of the songs we pitched to Spotify entered editorial playlists. Sometimes there were cases when a song could get into a playlist on Spotify over a year after the release date.
Over the years, we have seen our artists receive interviews and reviews in the press. GP, Svenska Dagbladet, Sydsvenskan and others. Our artists have appeared on radio stations such as Kerrang !, Swedish Radio, and Student Radio Stations. Various blogs have written about our releases. Still, when we analyze the artist's Spotify for Artists account you might not even notice any difference in streaming due to this at all. Press and listening have hardly any correlation at all. Now, of course, it's not bad to be mentioned in Kerrang or played on Swedish Radio, it has other functions, creates content that you can share with fans and it gives credibility.
Most artists want fans to listen to their music and we also see this as our main task to help with. When it comes to listening to an artist who is only at the beginning of their career, playlists are the most effective strategy. However, since it's not easy getting into playlists, it is an extremely difficult strategy to get really good at.
How do we work with playlist marketing?
Long Term vs. Peak
In the beginning, we were under the perception of the importance of making a synchronized pitch so that all blogs, marketing, and playlists would come in on the same day to get as large a peak of streams as possible on the release day and subsequent days. Something that is both extremely time-consuming and inefficient and that we also quickly realized plays less of a role. This was a valid case that was true during the times when music was distributed physically, however, a lot of time has passed since then and approaches have changed drastically. We have seen songs that have entered major Spotify lists years after the release date. Getting streams from algorithmic playlists can both take a long time and happen shortly after a release date . 
Example: Better off than Friends – King of Little Sweden. Released 17 Jan 2020. Gets a peak with a big Discover Weekly push 30 Nov the same year, ie about 10.5 months later.
Example: Gemini – Redvess. Was released in June 2020 by the artist himself. In March 2021, we sign a licensing deal and work the song into some relevant playlists. In August 2021 we start to get traction in algorithmic playlists and in February 2022 the song gets some really sharp peaks in streaming. During one of its best days, it streams over 17 000 time during one day.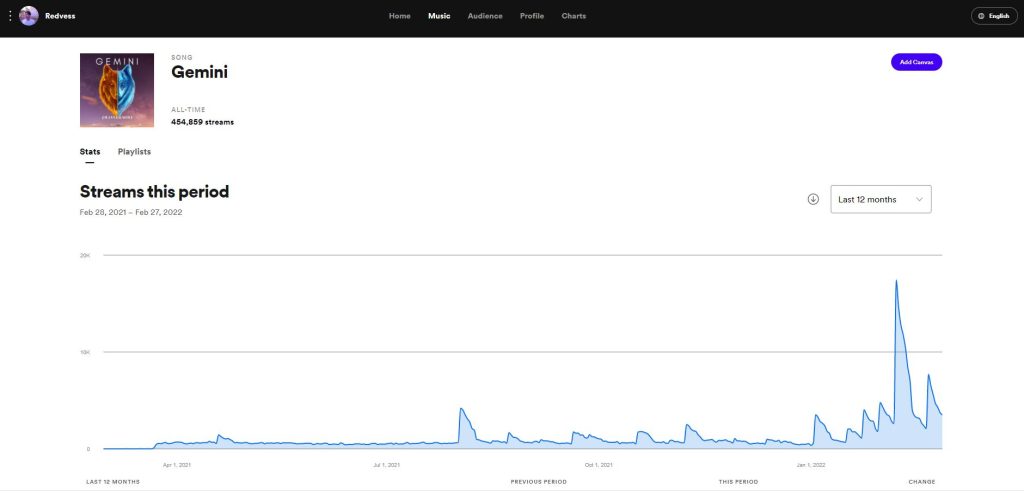 Relevance vs a lot of streams
It is more important to us that we secure the spot for the song in relevant playlists rather than make a song generate as many streams as possible short term. There are obviously a lot of different strategies and approaches for which one can argue.
For example, it can be good to get a track on a large mixed playlist and be exposed to a big audience of listeners. It can be very good because those who like the song will save it while those who do not like it may just skip it. After a while, Spotify understands who likes it or not and algorithmically distributes it to those who might like your music. At the same time, a playlist of such kind can ruin relevant artists' sections within Spotify and create confusion. Due to the fact that the playlist contains a lot of different artists and genres, it makes it difficult for Spotify to understand what kind of music is similar to yours.
Therefore, we pursue as narrow and relevant an approach as possible to build a wholesome artist "brand" and profile. This means that your release may not even reach 1000 streams the first week, but we really believe that it is worth it in the long run and that this is the best strategy. We believe that good music should not just die and be forgotten after a couple of months, therefore, we are not looking to maximize streams in 1 month to lose the next 10 years. 
In summary, we work through a combination of the following ways:
Pitch the track to relevant Spotify Editorials and other music services such as Deezer, Pandora, etc. 
Pitch the track to quality-assured external playlist networks. We make sure not to break Spotify's policies and we never pay to get into playlists nor do we buy any bot streams to increase the number of streams on the track 
Pitch the track to curators of playlists; we directly pitch to influencers, blogs, magazines, etc. that have a playlist as a side item. 
Pitch the track to the Indie Alliance (see below) 
Advertise the track on music services such as Deezer and Spotify (for larger advertising budgets) 
We work strategically to get into algorithmic playlists. We do not need to go into the technical details, more than that it is a combination of working with good music, getting into the right playlists, and that the right content is written about the artist and song in the right places.
Reduce dependence on gatekeepers – Indie Alliance
One of the company's principles is to work in a way that reduces our dependence on gatekeepers. It is an inefficient and time-consuming process to knock on the doors of curators which made us come up with different ways we could create our own marketing channels and complement our playlist strategy. The result was what we today call the Indie Alliance, which is a playlist network in a number of different genres that are run independently.
The network includes, for example, Kolibri Music, which is one of the strongest playlist curators on Spotify. The network follows all Spotify's policies and stands for the democratic music industry, high-quality playlists in all genres, moods which give our artists the best attention for their tracks. Note, however, that it is not a guarantee to get on these lists even if we of course have a good relationship as co-founders of it. Indie Alliance works independently with its own goals and directives and we want to be very clear that this is not possible to "influence" into these lists. The network receives more than 25 requests every day, only a fraction is accepted into the network and distributed in relevant playlists and fights for positions based on objective quality factors such as savings rate, age, match with playlist sound, etc.
A few words about Spotify Editorials
Spotify's Editorials have been significantly democratized in recent years. It is not possible to befriend a an Editorial Playlist Curator and thus increase the chances of joining. According to a source who works at Spotify, they never hand out contact information to their editorial staff because they have had to endure so many threats if a song or artist would not be included in a special list.
The only way to "pitch" to them is to go through their system. Someone who claims something else is lying or they know someone privately from before. A common strategy in the past was to check out Spotify employees on LinkedIn. Regardless, Spotify employees make policy errors if they enable songs in any other way than through the pitching system.
With that said, it does not mean that you cannot create the best conditions for a successful pitch. Hence, we want to have plenty of time to pitch and give Spotify plenty of time to watch our pitched songs. The curators at Spotify also use one tool called Truffle Pig which is a kind of search engine for songs in playlists where they can in advanced ways filter and find songs that they are looking for right then. We have established that high-quality music is what works best, because eventually someone finds it, likes it, and picks it up into bigger and bigger playlist networks.
Algorithmic playlists
Algorithmic playlists are an important part of our playlist strategy. Even if we do not go into detail here exactly how it works, it is absolutely important to, once again, create good music and reach out with it to the right target group. We have seen really good songs with hardly any marketing done at all and still, every Monday these songs get a peak in streams when the song enters Discover Weekly. Although of course, good marketing helps. It is about creating music that a number of people with the right target group like, listen to again, and save. It does not have to be more difficult than that.
Some common misunderstandings
Just because you got less than 1000 streams in one week does not mean that no one likes the song. We work long-term and it is more important to get into relevant lists than many large lists to get streams. 
If you get a lot of listens, it does not mean that these people become fans per se to you as an artist. On the other hand, the number of "saves" is a measure that the song is appreciated by listeners and that they want to listen more in the future. Many people save a song in their own playlist, but may still not follow you, but you could say that they rather begin to become aware of you as an artist. Following an artist on Spotify is a pretty big deal and means you want to get updates as soon as an artist releases new music. It is not uncommon to see artists who have several thousand streams a day but who get 2-3 followers a day. It has more to do with the nature of playlists than with you doing a bad job of branding and social media. How often do you follow an artist? 
That we stop working on a release after the peak promo (2 weeks into the release). We work continuously to develop strategies, pitch opportunities, and playlists that benefit all our songs in our catalog at all times. Certain active pitching is focused before and during the release week as it is has proven to be most effective. However, we see very often that tracks only start gaining popularity after 6 or even 12 months after the release.
Expectations
As an artist, it is clear that you have expectations of a release with us. We think it's good that you are expectant and want it to be as good as possible. We do that too. However, we want to say that even though we have made several hundred releases and released many songs over the years, we have seen both successful and less successful releases. Sometimes songs we thought less of went better than songs we thought a lot of. Unfortunately, we can not guarantee that your release will go well. Nobody can.  we can not influence external factors such as what a Spotify Editorial or your fans will like about the song.
However, what we can do is do the best we can even if it is a boring answer. How many streams a song gets depends a lot on the genre. We see that we usually get more reach in more mainstream genres compared to niche genres. We do not work with the song for just one week, but we develop strategies, pitch opportunities, and playlists that benefit all songs in our catalog throughout the time. 
Short answers: 
Will all of our songs enter editorials – no 
Will all of our songs get into algorithmic lists – no
Are all our releases getting over 1000 streams after one week – no
Get all our artists a lot of new followers – no
We do the same things and follow a process for all releases – yes!
Do we work with the releases longer than the one (first)  week? – Yes! We work with them as long as they are part of our catalog. That is, for quite a long time. 
Do we keep track of how the song is going after the peak promo phase is over? – Yes! 
We do our best for all releases – Yes!
Streaming statistics (updated 2021-11-26)
Below you can find average statistics according to a certain genre; min and max streaming that a song gets after the release. Note that new releases are here mixed with songs over 5 years old, mixed with focus songs and album songs, so the statistics can be somewhat misleading and were updated in November 2021. It still provides a vivid picture of how things can work out for our songs within some time. We have lumped together smaller sub-genres into a more general genre. The principle is that the more niche the fewer streams one should expect.
| | | | |
| --- | --- | --- | --- |
| Genre | Average of streams | Min of streams | Max of streams |
| latin | 763 360 | 225 979 | 1 190 940 |
| rap | 475 862 | 26 812 | 2 566 957 |
| hip hop | 446 609 | 89 720 | 2 153 010 |
| pop edm | 416 028 | 31 700 | 861 410 |
| Pop | 414 612 | 4 284 | 1 629 525 |
| edm | 378 296 | 31 258 | 2 339 128 |
| r&b | 249 671 | 102 350 | 464 075 |
| swedish hip hop | 151 871 | 39 080 | 263 601 |
| indie folk | 123 378 | 561 | 602 190 |
| christmas | 100 689 | 55 319 | 146 058 |
| metal | 95 519 | 2 078 | 546 908 |
| Swedish Pop | 83 823 | 4 396 | 196 782 |
| indie pop | 66 096 | 205 | 456 955 |
| Indie rock | 52 960 | 332 | 297 945 |
| country / americana | 27 977 | 627 | 153 424 |
| metalcore | 14 660 | 1 421 | 56 161 |
| Grand Total | 226 734 | 205 | 2 566 957 |
It is inevitable but at the same time difficult to talk about how many streams one can expect for a release. However, we experience that streaming figures distract focus on what is important and what can be influenced. We rather evaluate ourselves on whether we deliver on time, perform our work skillfully and disciplined, and do our best to make the release as good as possible. More than that is hard to do. Y
You have probably chosen to work with us partly for the reasons of results we have done before and we know that we are good at getting your music heard. But we can never guarantee success and no one can. Believe us when we say that we love to see releases reach beyond expectations and deliver both streams and royalties, but in case your release would not go as expected after 2-to 3 weeks, do not despair, good songs will always sooner or later go well and the streaming era makes it possible to market music several years after the release date.